At Rashotte HHBC we offer a full range of products and services for all your needs. We have a large yard staff that handle our products outside the store, and all of the deliveries. We can handle deliveries of any capacity with our variety size delivery trucks. Our Boom Trucks, Moffett Truck, Roll-off Truck, Cube Tuck and half tons will get the job done, any size, big or small.
Our dedicated contractor sales staff deliver the Expert Advice you need to get the job done right. We have the fundamental knowledge and understanding of new builds and renovations to help with any project, big or small.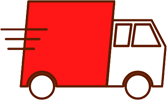 Get the supplies you need delivered when and where you need them with our flexible delivery schedule.

Enjoy preferred contractor pricing and special HH Pro offers on our products and services.

Earn points from your purchases and redeem them for almost anything you want.

Bring in your plans and we can provide you with a comprehensive and project-specific material take-off.
Digital Flyer & Pro Emails
Receive monthly digital flyers and exclusive Pro offers straight to your inbox.
Let us help get your project started today.
Contact us for material prices, job quotes, and with any other questions you may have.